Sir Grange Zoysia - the finer leaf choice
Ten things to love about a Sir Grange Zoysia lawn
:
Unlike most other Zoysias, your Sir Grange will grow beautifully even with limited direct sun. Sir Grange can survive in areas of 40% sunlight.
All warm season grasses lose colour in heavy frost but Sir Grange will remain the thickest and lushest lawn on the street, helping to reduce the risk of winter weeds. Use with ColourGuard, and you'll have a 'summer lawn' all year round!
Like a good wine, Sir Grange just gets better with age! It's unique Rye Zone system is what gives Sir Grange its strength - so enjoy your Sir Grange; it won't penalise you for it!
Sir Grange's unique Rye Zones and roots ensure deeper root structure and improved water uptake, so it's perfect for our Aussie climate and environmental sustainability.
Because you can keep Sir Grange maintained between 6mm and 50mm, it makes a perfect low maintenance lawn for any environment. Enjoy a little time tending to your Sir Grange and the rest relishing it!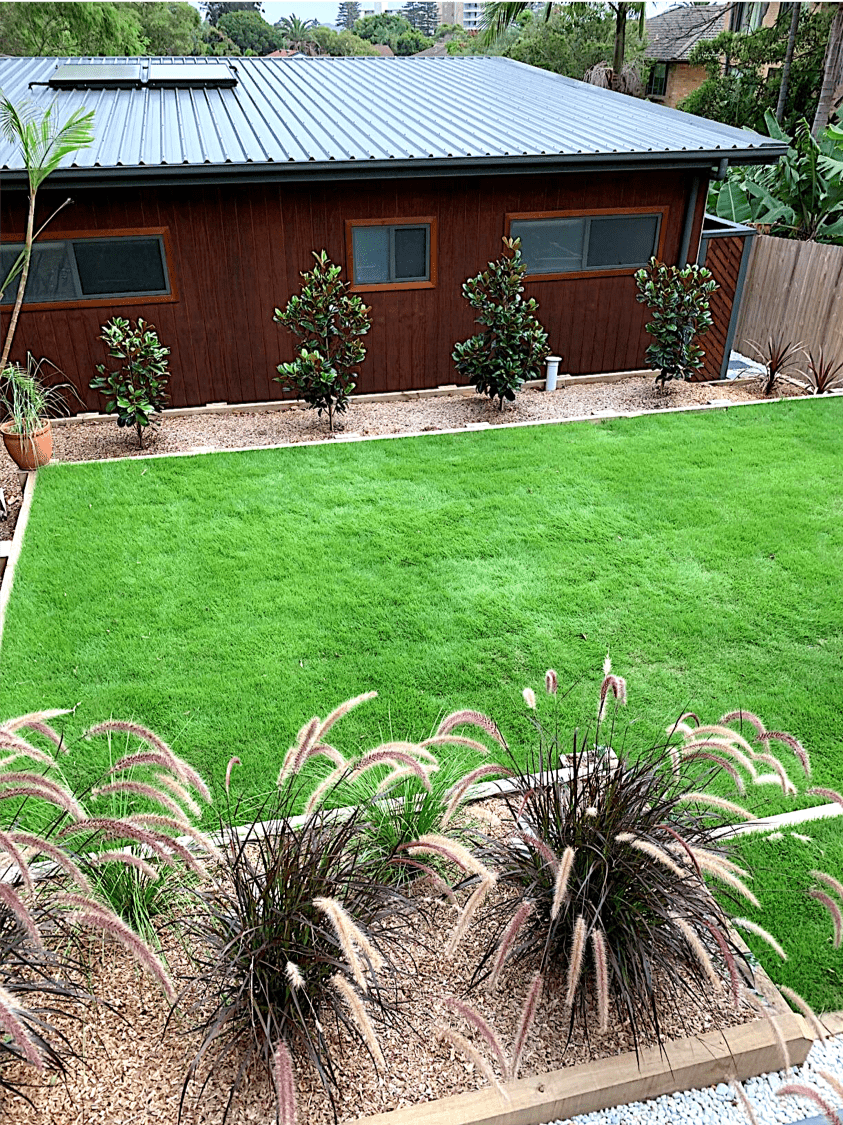 Beautiful unique green colour
Sir Grange has a unique green colour, glowing out among other lawns - no wonder she's a landscape favourite!
Another feature that makes Sir Grange so special is its unique texture. It has the leaf of a fine Fescue, but with the mat of a good Buffalo, giving you a fine leaf lawn that has the same natural weed mat as that of the DNA Certified Sir Walter. A delicate look with a robust heart!
Sir Grange's lush, thick texture will act as a natural weed mat, but allow you to have a thin, blowing-green finish. Finer look, less maintenance.
Sir Grange is less prone to getting nasty pests attacking the lawn. So you can spend less time worrying, and more time enjoying!
Sit back and relax; when you purchase your Sir Grange through Green Life Turf, it's backed by LSA's 10-year warranty!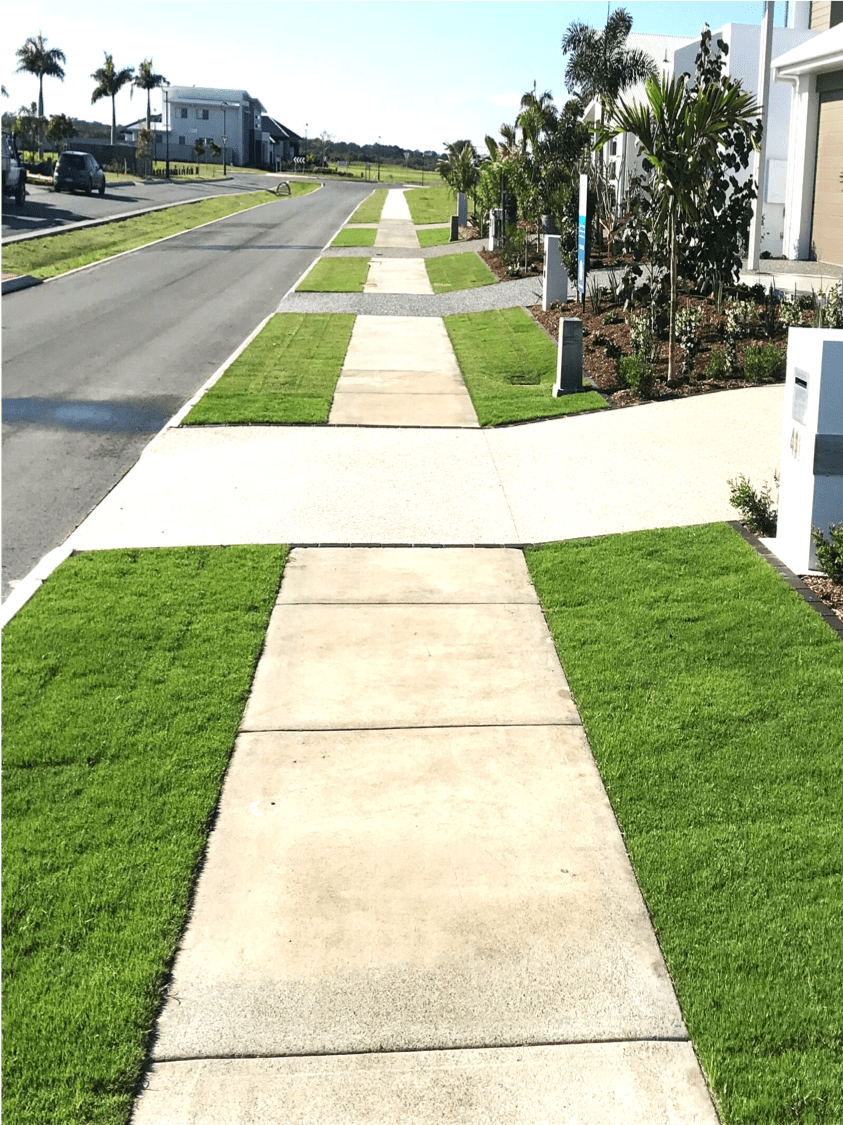 An Interview with Sir Grange Zoysia
:
Where did Sir Grange come from?
Like all the turf varieties we supply, Sir Grange is a successful product developed by turf grass breeders and R&D teams across the world and around Australia working in conjunction with Lawn Solutions Australia.
Why was Sir Grange developed?
Originally developed for the golf industry for golfing greens, it was quickly discovered that its characteristics also made for an amazing home lawn, especially for smaller areas that need to look great with little maintenance! It's adaptability to a variety of climates, along with its incredible dark green leaf have made it the number one selling Zoysia grass already in the USA. More locally across Sydney NSW and surrounding areas, we've been a part of thousands of Sir Grange lawn installations and yet to find an unhappy customer!
Why did we start growing Sir Grange here in Australia?
This beautiful Zoysia was meticulously chosen from over 10,000 different varieties of turf to fit into our Lawn Solutions Australia range of turf varieties we grow and supply! It has been through strict testing around the world and, most importantly, across our wide, varying climates and soils right here in Australia. It's now successfully grown and supplied in over 10 different countries and has proven to withstand any climate Australia can throw at it. Sir Grange has out-performed all other Zoysias, and we're proud to be one of the few exclusive turf growers and suppliers able to offer it to market.

How do I care for my Sir Grange?
She's a great, low-maintenance, self-repairing grass, but like all living things, she needs a little love. Here are some Sir Grange care tips that we recommend:

Sunlight



Three hours of sun to all-day sunshine and they'll be happy little blades of grass.



Mowing





Requires half the amount as most common lawn varieties. Mow her between 6mm and 50mm and she'll love you for it. Of course, we always recommend slightly longer length for the cooler months.




Watering





Sir Grange requires much less water than most other common lawn varieties as well, and that's great news for our environment and sustainability

.



Fertilising





Requires less fertiliser than most other grass varieties

. We recommend fertilising at the beginning of spring, at the start of summer, and again mid-way through autumn



Weeding





Because your Sir Grange is weed resistant, there won't be a lot of weeding required

. However, we always recommend keeping an eye out for weeds, especially in Autumn,

take care of them immediately and you'll never have a worry!



Scalping /
dethatching





There will be minimal damage when scalping. Scalp each in late winter just before the grass comes out of dormancy. (Being a slower grower, you'll find your Sir Grange will take a little longer to regain its full colour again, however the colour will remain greener for a lot longer.)





Lawn grubs


and pests




Pest resistant also, you won't have too many concerns here

. Again though, we always recommend keeping an eye out for signs of pests and

treating immediately.
What are people saying about Sir Grange?
Sir Grange has been creating a lot of noise and excitement in the turf market all around the world. With all its amazing characteristics and qualities, it quickly became the USA's number 1 selling turf for homes and sports fields. And we think that kind of says it all!
What's the 10-year product warranty?
With your purchase of Sir Grange through us, you'll receive a Lawn Solutions Australia Product Warranty Certificate, a nationwide warranty ensuring:

you are receiving a genuine Sir Grange Zoysia lawn,

your Sir Grange has been grown and harvested to highly stringent standards,
it has been inspected upon harvesting and determined to be free of weeds and disease before delivering,
it has been freshly cut off the farm, and
for a period of 10 years from delivery or instalment*, your Sir Grange will perform to its maximum potential in its new environment (subject to conditions). *if not installed by Green Life Turf, subject to following instalment instructions provided by us.

Products You Also Need
It's clear we love our turf, but we want you to as well! So we're giving you the heads up on the products we recommend you use to care for your beautiful lawn.
Starter Fertiliser -
Lawn Launcher Starter Fertiliser
If you're laying your own new lawn (or planting a new garden), don't do anything without Lawn Launcher Starter Fertiliser. For new lawns, rake into the top 50-75mm of your soil before laying your turf. Lawn Launcher gives your new lawn the best start to its new life! Available in two convenient sizes through our online shop.
Fertiliser -
Health Booster Lawn & Plant Food
We use our own special blend of fertiliser for our turf here at the Green Life Turf farm. Especially formulated for lawns and plants, it's been developed over many years. Our new, improved, best-ever formula is now available through our online shop. Because why shouldn't you have the best too?
Fertiliser Spreader - EarthWay 3400 Hand-Operated
We've tested out a whole range of spreader products and have narrowed down our choices to EarthWay spreaders: best for design, quality, usability and value for money. We have hand-operated spreaders for small areas, and spreaders on wheels for bigger ones. Check out our range on our online shop.