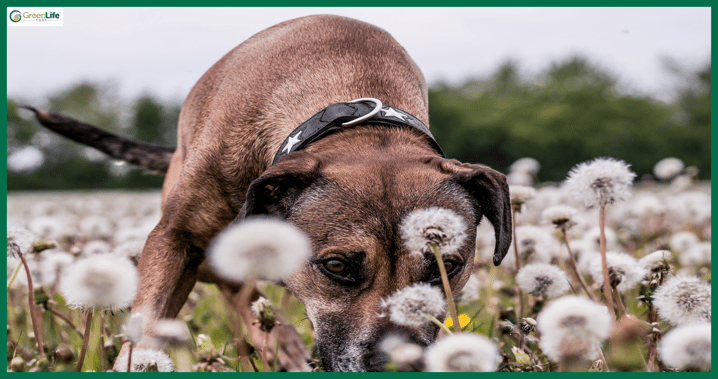 Some see a field of dreams, others a field of nightmares!
Finally, a tiny bit of rain here in Sydney! Along with the end of winter, what does this mean for your lawn? If you're noticing some strange 'grassy patches' thriving among your dormant lawn, you might actually be looking at flourishing WEEDS!
Here are some of the more common weeds found in Australia, what to look for, and how to get rid of them!
Weeds are easily spread – airborne seeds, shoes and feet, pets and wildlife, mowing equipment, manures, etc – so it shouldn't be too much of a surprise to find them lurking in your lawn. The trick is to get rid of them as soon as possible. Don't give them time to settle in and grow!
Common Weeds
Cudweed
(Gamochaeta Calviceps)


Dandelion
(Taraxacum Officinale)


Identified by their flat, shiny, green leaves that form in a rosette shape, these guys are difficult to get rid of. Removing by hand and herbicide* treatment is the best way to free your lawn of cudweed, and may require a few herbicide* sprays to completely get rid of them.

Known for their 'wish magic' and

practical jokes in infantile stages, and their 'daisy chain' (dandelion chain) qualities, these guys are in fact weeds and will grow and take over just about anywhere. Remove by hand and herbicide* treatment.
Bindii
(Soliva Pterosperma)

Creeping Oxalis
(Oxalis Corniculata)

Lego's got nothing on the Aussie Bindii. Also known as a kid's primary nemesis, Bindii seeds are painful on bare skin especially to step on. If your sore bare feet aren't enough to identify a Bindii problem, you'll recognise them by their fern-like, light green leaves, in the shape of tiny rosettes. Tend to your Bindii problem early and it's easy to manage. Remove by hand or selective Bindii herbicides*.

Never judge a book by its cover. Identified by their pretty leaves and simple yellow flower, this guy is not called 'creeping' for nothing. It will create a new root every time part of it touches the ground, and creep under and through your lawn, eventually taking over completely. Hand remove small plants, dig out sections of your lawn if required, and use a herbicide* for larger infestations.
Clover
(Trifolium Spp.)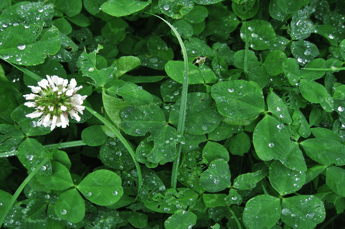 Identify this guy by its clover-shaped leaves with their white circular marking and by its white, ball-shaped flower. In your lawn the Clover is a nuisance weed and needs to be removed. Hand removal and selective herbicide* treatment is recommended, though keep an eye out for a four-leafed Clover plant: keep that one for good luck!
* When using herbicides, please check for suitability on your lawn and in your environment.
Getting Rid of Weeds
Let's look at the most proven effective ways to get rid of your weeds:
Mowing
Longer and denser lawns are better equipped to compete with weeds. Keep your lawn longer, and mow regularly to encourage thick, healthy growth.
Hand Removal
Smaller weeds can be pulled out carefully by hand if you're getting the roots out. Use a trowel and prizing around the roots will help you get underneath, loosen them, and pull them up by their roots.
Herbicides
There are a variety of herbicides on the market, both selective (formulated for use on a specific weed) and non-selective (which will kill most plants including your lawn). We recommend only using selective herbicides to target specific weeds and if you're not sure what kind of weed you have, take it in to your turf specialist or local nursery. Before you buy, check the product's suitability for use on your lawn. When applying your selective herbicide, always follow the manufacturer's instructions. When you're finished, always strictly follow the manufacturer's instructions for storage.
More Information on Weeds
For more information on common weeds found in Australia, as well as the less common and so much more on loving your lawn care, get your coping of Lawn Solutions Australia's Loving Your Lawn 2017 Perfect Lawn Guide! Available FREE with our Green Winter Package (while stocks last).
Hurry! Final month of our Green Winter Package SALE!