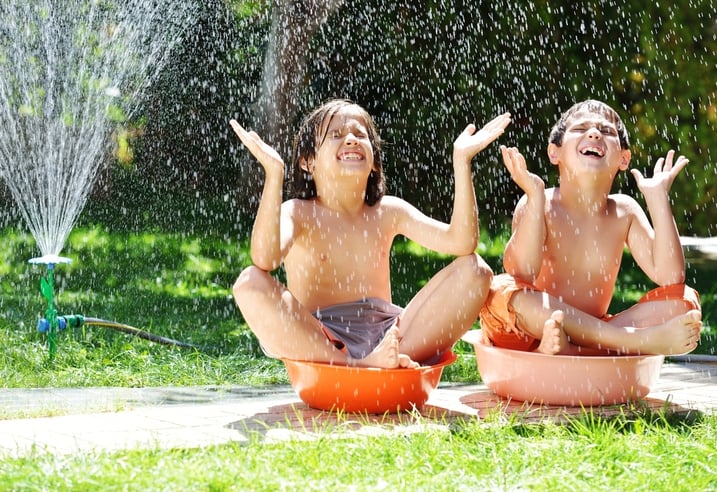 Just like us, just like animals and all living things, your lawn needs to stay hydrated.
If we don't get enough water, we feel exhausted and even show physical signs of dehydration. So does your lawn. And even though you might be doing all the things you were doing before to keep your lawn in its peak condition, it may now be starting to look brown and unhappy.
We're not all born into the world of gardens and lawns. I know people who claim they can kill off a cactus! So here are our tips on what to do to make sure your lawn stays healthy, even in this Sydney heat.
When Should You Water Your Lawn?
It's best to water your lawn early in the morning when the evaporation levels are at their lowest. This ensures the water goes into your lawn, deep down into the roots, and not evaporated into the air.
If you cant get an early morning watering in, water in the early evening. Be careful not to water too late as some bacteria may occur when your soil stays damp all night long.
How Often Should You Water Your Lawn?
Of course, this will depend on your lawn variety and if it's established. As a general rule, in extreme humidity and heat, water every day.
For established lawns in cooler, more comfortable weather, you can water less frequently, but remember to give it a more thorough soaking to help the roots grow deeper.
For lawns that are not yet established, follow your supplier's instructions - water thoroughly every day until it's fully established.
How Much Water Should You Give Your Lawn?
Make sure you're giving your lawn a thorough soaking of water each time.
What Else Should You Watch Out For?
We're here to help, so let us know if you're experiencing any lawn concerns!
We've also put together a summer package for you to help you keep your lawn in optimum condition all summer long: